I finally finished one of my diy projects I mentioned in a prior post woo!
Supplies I used:
-Paper Mache Boxes
-Black Tempra Paint
-Spray sealant used for pastel, charcoal, and pencil drawings
(Instead of using the prior two supplies I would use spray paint or acrylic paint that way you won't have to worry about sealing the tempra paint since it's not water proof I just used it because thats's what I had on hand)
-Studs (small pyramid, large pyramid, and large dome)
-Needle nose pliers
-Hot glue gun
*I got most of my supplies at Hobby Lobby but you can find them at any craft supply store
Directions:
Step 1-Paint your boxes (depending on what you used to paint them you might want to let them dry over night
Step 2-Get your needle nose pliers and bend down the prongs on the back of the studs (this is kind of time consuming but once you have all your studs ready to go the final step is really easy and fast)
Step 3-Get your glue gun and glue on the studs in your desired pattern and your done! (since the studs are metal they get pretty hot when pushing them down onto the box so just be careful not to burn yourself)
*In total I used 23 studs per box and just lined the borders since I planned on stacking the boxes on one another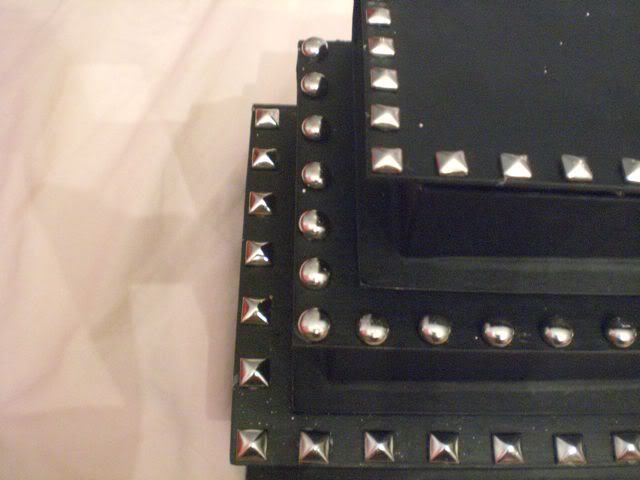 Hope you enjoyed this how to post!
xoxo